WORKSHOP INFORMATION
This is important information. When you are done reading it,
click the link at the bottom to register for your workshop.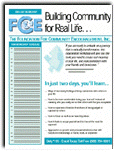 <--- For easier access, the workshop brochure has been converted to pdf format; here is page one (486k), and here is page two (487k). You need Acrobat Reader to view these files (free download).
Program Schedule
Check-in (each day): 8:30 am - 9:00 am
Program (each day): 9:00 am - 5:00 pm
Room and Board
Room and Board are not included in the cost of the workshops.
Cancellation/Substitution Policy
Cancellations received up to five working days before the seminar are refundable, minus a $75 cancellation fee. After that, cancellations are subject to the entire workshop fee, which is good for a full year toward a future workshop or product purchase. Please note that if you don't cancel and don't attend, you are still responsible for payment. Substitutions may be made at any time.
Affordable Rate - Member Discount
$195 per person; 10% discount for FCE members or groups of four or more. Payment is due before the workshop.
Continuing Education Units


Continuing Education Units for attending FCE workshops are now available through the Association for Humanistic Psychology. Please check with our office for details.
Scholarships
Limited scholarships may be available. Please contact us for more information.
Mailing Address Information
If you receive duplicates of the same brochure, please send the labels to us (attn: Amy), indicating which label is correct, and we'll change our records. You may receive some duplicates for awhile.
[ I am Ready to Register ]