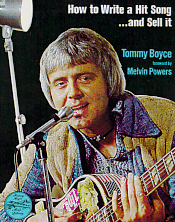 Famous songwriter reveals secrets:
HOW TO WRITE
A HIT SONG
AND SELL IT
Do you like music? Do you like to sing? Do you write poems? Do you play a musical instrument? Would you like to write a hit song? If your answer is yes to any of these questions and if you are willing to devote some time to a pleasant and fun-filled hobby, you can be successful in the exciting world of music. Your dreams of song-writing success can come true! Listen to this.
SONGWRITER WITH 22 GOLD RECORDS TELLS YOU HOW
Tommy Boyce, an internationally well-known songwriter, has written a how-to book for the beginner or the up-and-coming songwriter called HOW TO WRITE A HIT SONG & SELL IT. In it he reveals professional song-writing tips and charts a course of instruction for you to follow. He tells you how he wrote six of his biggest hits and has even included the music and lyrics for you to study, sing, and play. This fabulous book, which includes many personal photos of celebrities plus royalty statements from around the world, tells it all.
Here are some of the hit songs that Tommy Boyce has written:
LAST TRAIN TO CLARKSVILLE
COME A LITTLE BIT CLOSER
I WANNA BE FREE
VALLERI
I WONDER WHAT SHE'S DOING TONIGHT
LAZY ELSIE MOLLY
BE MY GUEST
PRETTY LITTLE ANGEL EYES
ALICE LONG
I'M NOT YOUR STEPPING STONE
PEACHES 'N' CREAM
WORDS
SHE
THEME FROM THE MONKEES
PLUS: The theme song for the ever-popular TV show, THE DAYS OF OUR LIVES


His latest songs:

WILLIE BURGUNDY
WHO WANTS A SLIGHTLY USED WOMAN?
I WANNA BELIEVE IN LOVE
For the first time a famous songwriter shares what he has learned in his 17 years of writing hit songs year after year.
---
CONTENTS

1.  Who am I?

2.  Can the Amateur Song-writer Reach Stardom?

3.  How to Begin With or Without a Musical Background

4.  Moods, Titles, and Melodies

5.  Where Do Songs Come From?

6.  Which Comes First, the Lyrics or the Melody?

7.  Analyzing Hit Songs

8.  What Makes a Hit Song?

9.  Professional Song-writing Tips for the
    Amateur or the Up-and-Coming
    Songwriter

10. How I Created Six of my Hit Songs

11. Evaluating Your Music

12. Re-writing Before Presenting Your Song

13. Promoting Your Own Song

14. Copyright, ASCAP, BMI

15. The Business Side of Music

16. How to Sell Your Song in Person or by Mail

17. Tommy Boyce Songwriters' Club

---
YOU CAN BE A SUCCESSFUL SONGWRITER
Another invaluable book for every songwriter is the SONGWRITERS' RHYMING DICTIONARY containing thousands of rhymes which will be of tremendous help in your lyric writing. With it you can easily rhyme any word.
AN EXCITING, PROFITABLE SONG-WRITING FUTURE CAN BE YOURS
You'll be encouraged in your own writing by an almost unbelievable musical success story of Melvin Powers, publisher, Wilshire Book Company, who as a direct result of reading Tommy Boyce's book in its manuscript form, recently wrote a song entitled MR. SONGWRITER which became a best seller on the country western charts. What this remarkable, instructive book did for new amateur songwriter, Melvin Powers, it can do for you.
Best of all, you'll have the opportunity of joining, without charge, the Tommy Boyce Songwriters' Club which is designed for all who have a genuine interest in music and seek the opportunity to write songs for fun and profit.
Don't delay.
Get started in the fascinating world of song writing and music.
"HOW TO WRITE A HIT SONG & SELL IT"
Only $10.00
"SONGWRITERS' RHYMING DICTIONARY"
Only $10.00